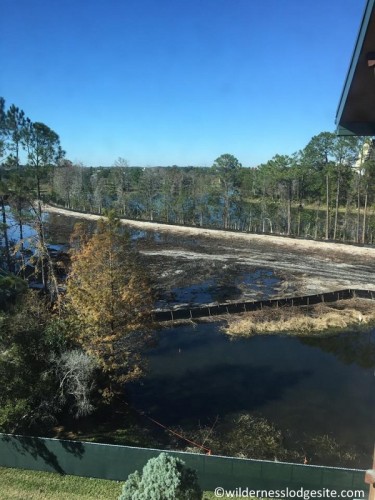 Disney's Wilderness Lodge is in the midst of a major refurbishment that includes the construction of waterfront cabins for the Disney Vacation Club.
In recent weeks we've been seeing reports from guests about wooded areas being cut down and large sections of the resort closed off. The photo above shows the northwest side of the resort from the fifth floor – looking out toward the direction of the Contemporary and the Magic Kingdom. It clearly shows that a major area of woodlands has been cut down.
This means, if you're looking for a "woods view" room on the north side of the lodge you're out of luck.
There are also some major changes happening inside the main lodge.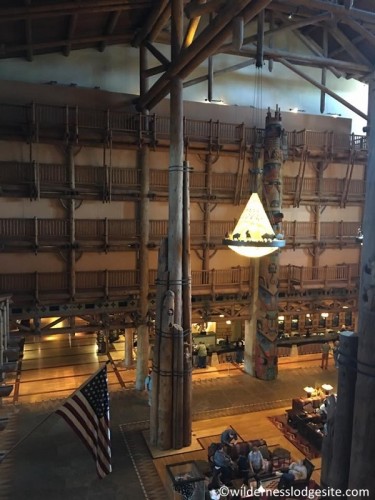 It appears that the area of the lodge directly above the front desk is completely closed off. In the photo above you can see the front desk at the bottom and every floor above is blocked by construction barriers.
The elevators on the right side of the lobby are also closed to guests: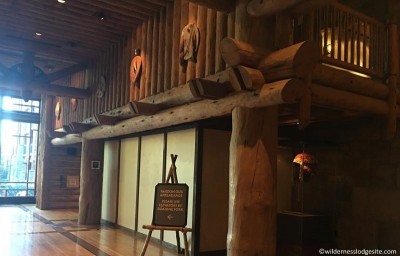 It seems that the "minor disruptions" that were reported by guests when this construction project first started in October 2015 appear to be getting bigger. This DVC-centered project will be ongoing through 2017.
Will you be choosing to stay at a different resort hotel for your next Walt Disney World Resort vacation?