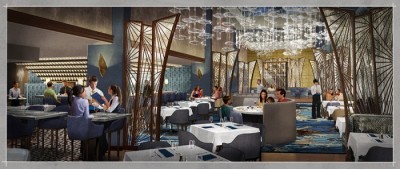 This fall the Flying Fish Café at Disney's BoardWalk will reopen as the Flying Fish and will be joined by a new bar next door, the AbracadaBar Lounge.
Chef Tim Majoras will lead the kitchen at Flying Fish and the star of the menu will be sustainable fish including new menu items like the 'Fruits of the Sea' sampler. This dish will feature rock shrimp and clams from Florida, grouper cheek, mussels, and a "splash of Brandy and a rich lobster stock."
The remodeled interior includes an all-new kitchen and dining room – including expanded spaces for private dining – and new accents including golden-winged room panels and a chandelier that looks like a school of flying fish.
Next door to Flying Fish is the AbracadaBar Lounge, a "curious cocktail lounge" combining the "Golden Age of Magic" with Disney storytelling.
According to the backstore for the lounge it was "once a secret stomping ground for famous touring magicians, local boardwalk illusionists and the loveliest magician's assistants of the day. After every magic show, these prestidigitators would gather at the bar, where they'd conjure up new cocktails, swap magic tips and tricks, and often stay up all night attempting to "out-charm" each other with their extraordinary illusions."
As the story goes, one night every single magician in the lounge disappeared and they were never seen again.
The bar is set to serve up signature cocktails.
An opening date has not yet been set for Flying Fish or AbracadaBar Lounge.