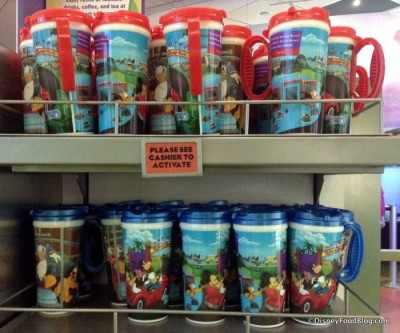 If you have plans to visit a Walt Disney World Resort hotel soon you should check out the refillable mugs in the quick service locations. Our friends at the Disney Food Blog are reporting that mugs featuring a new design are rolling out at the hotels.
The mugs feature Mickey and friends as they're driving through the entrance gates to the Walt Disney World Resort – something  that is always exciting!
The new design also features subtle shout-outs to resort hotels including the famous purple road signs, images of certain hotels, and even logos featuring hotel names.
The mugs aren't yet available at every resort hotel, so you might not find them at your hotel just yet.
Have you seen the new design for the refillable mugs? Let us know in the comments.