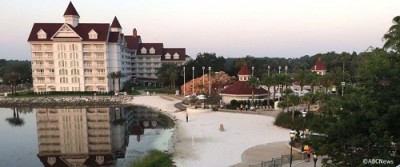 A two-year-old boy was snatched by an alligator Tuesday night on the shores of the Seven Seas Lagoon at Disney's Grand Floridian Resort and Spa.
Officials say the boy was playing in several inches of water when the gator grabbed him. His parents entered the water and tried to wrestle the boy away from the gator to no avail. The search and rescue operation became a recovery operation Wednesday afternoon.
Authorities told ABC News that the attack was "not survivable."
Nearly 50 personnel from the Orange County Sheriff's Office plus officials from Florida Fish and Wildlife and Reedy Creek Fire Rescue are assisting in the recovery effort. Counselors are with the boy's family.
Walt Disney World has closed all the resort beaches and stopped all watercraft activity on the Seven Seas Lagoon, including the ferry to the Magic Kingdom.
The beach at the Grand Floridian did not have signs posted warning of alligators, but there were "no swimming" signs posted.