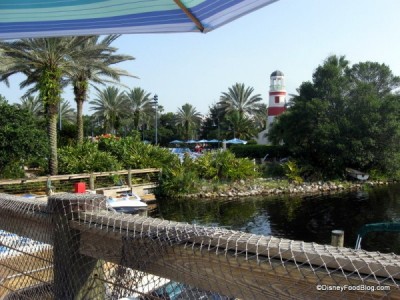 Recently, Old Key West has gone through some refurbishments at the resort's dining locations, and thanks to our friends at the Disney Food Blog we can share the news with you.
Old Key West's quick service dining location – Good's Food to Go – has a new and improved beverage refill station. The area is now more open than it was previously, allowing guests to enter from the front and the pool. The menu remains the same.
Fans of the Gurgling Suitcase will notice a change in the decor of the bar, including the addition of frames full of fire and police badges from around the country in addition to DVC member license plates.
Additionally, extra bar space has been added and the drink menu is now printed on a sign (rather than handwritten).
There is still a refurbishment going on at OKW, including sections of Olivia's.
But, fans of this dining location will find the restaurant is still open and there is ample seating.
For more on the updates at Old Key West, stop by the Disney Food Blog and check out their photos!
A big thanks to the DFB for use of their photo for this story.